Next bookable month:
1 February 2022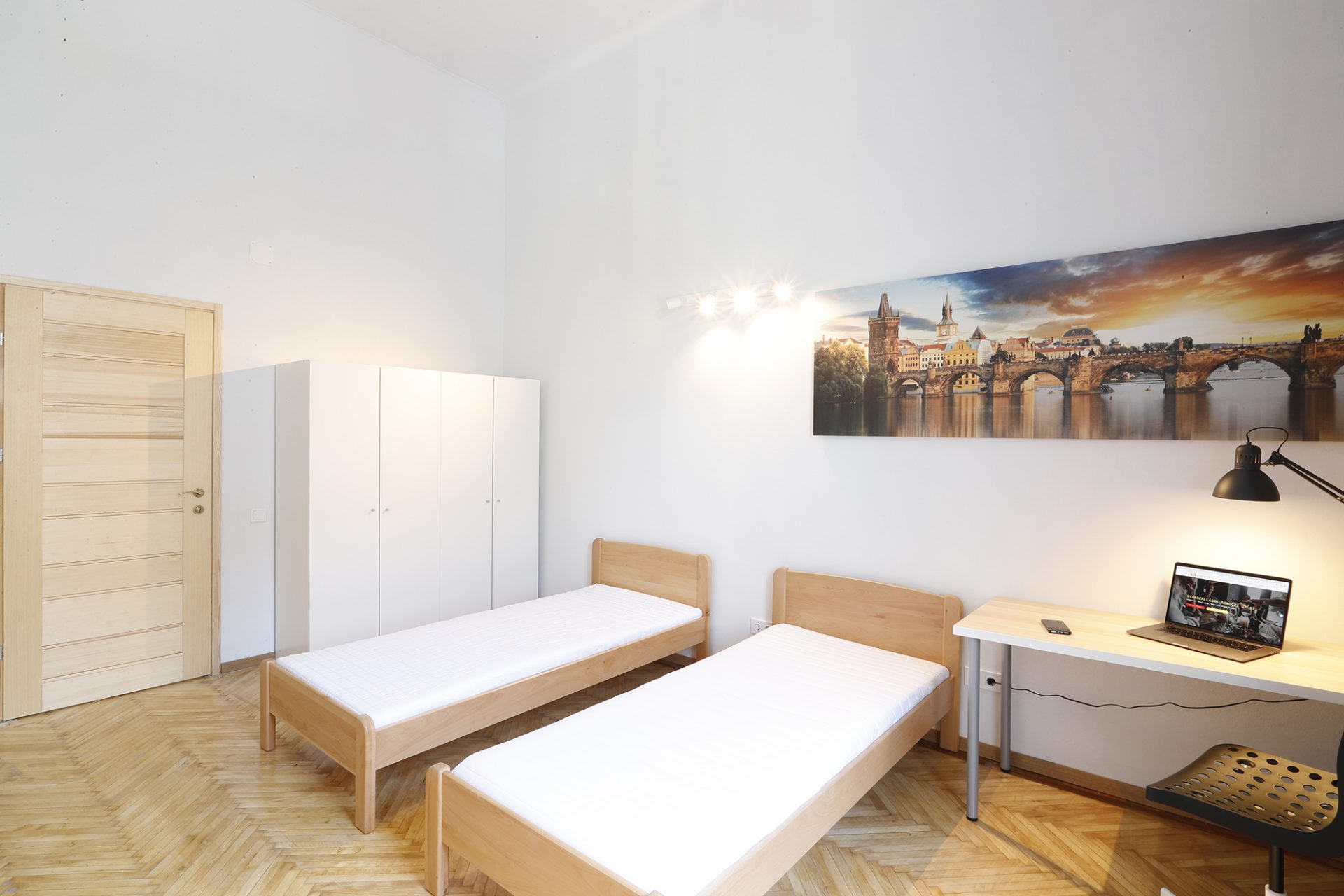 Room details
We built our rooms based award-winning plans, so the interior is modern and cozy, the style is clean and the wifi is fast!
2 beds
2 desks
chairs
fridge
night lights
sliding blinds
window
What is in the rooms?
Each student room includes two beds with 2 desks, chairs, cabinets and shelves, which you can put lot of things. Each room has a small fridge like in hotel.
Each room is lockable and has own key.
What is in the common areas?
In the apartment has 4 bathrooms, 4 toilets, community park, large size fridges, full-equipped kitchen with accessories: dishes, glasses, plates, cutlery, ladles, colander, trays, cutting boards, knives, microwave, hot plate, coffee machine, two washing machines, dishwasher, iron, toaster, kettles. In the bathrooms has hairdryers with dryer machine.
What does the price include?
The renting fee includes all costs: common cost, electricity, water, internet and all device usage.
The price includes two times cleaning all common areas per week.
The room is ideal for learning or spending leisure time, because you have a comfortable bed and a separate desk with lamp. There are lot of chairs in the room and including a fridge for every room, so your food is in safe.
Thanks to large windows, you shouldn't lights up continuously, because the sunlight can reach into your room! You can adjust the sunlight amount with sliding blinds.
You can book your bed individually.
You don't need to find a roomate.
If you have a friend who choose also us than we can give both of you discount price.
You can be sure that you will find the best, friendliest, small family-like community here and we select members that only students like you live around you.
This accommodation only available for students, no workers, no tourists, it is much better than any hotel anywhere. You will enjoy it, we are sure.
Safety and comfort come first.
Student rooms features:
– Premium quality 3-zone, 20 cm thick comfortable mattresses in each room
– Elevator available in the house, you can use it at any time
– Barrier-free access until your room, no stairs, elevator also useable
– You can live in a particularly quiet, safe condominium, yet in the heart of downtown
– A multi-stage access control system enhances for your security
– Security cameras also take care of your valuables and YOU
– You can enjoy your stay in the highlighted Palace district of the most traditional district of Budapest while you study in the city
– If you like a beautiful downtown and bustle of the city and want to feel a special city how getting up and lying down, we recommend the Budapest room with a balcony overlooking the city
– If you are a little bit more retractile and you love more silence choose the room which you like from these: Singapore, Bangkok, Dubai, London, New York, Hong-Kong rooms
– if you want to get to know and live with intelligent, well-backgrounded, highly qualified students from other cultures, be sure to choose us, we pre-filtering our tenants several times before move in, so you can be in maximum safety
– In the common areas, in addition to cleaning twice a week, we also perform disinfection once a week, not only during special periods
– If you need medical care, we will immediately help you with the best medical care, since we live in Budapest ourselves, we know the best doctors, the fastest medical care 24 hours a day
– We handle moving in- and out- flexibly, you can come at any time, even in the middle of the month and we calculate your stay flexible
– We run a separate community group for our Students who living here, we keep in touch with them on a daily basis if any problems appear within 30 minutes we are there for help immediately
– We provide you with the peace of mind necessary for learning, but if you have already learned yourself, you will find nearby pubs, restaurants and popular entertainment places, which you can be found within 400 meters from student house in the heart of Budapest
– Newly built heating system, modern, condensing, internal combustion ultra-safe gas boiler with automatic safety functions
– 600 liters of hot water storage for all 4 bathrooms, which never runs out
– If you arrive with a lot of packages, there's no problem, because you can pack everything in the spacious rooms with high ceilings
– We also provided high-bandwidth internet, we currently provide fast internet from 2 incoming service providers, 6 WIFI routers in the apartment provide coverage and 2 wired internet connections in each room are also arranged if you like to study on a notebook, laptop, watch a movie, keep in touch
– Choose a new, safe, trendy, well-equipped, exclusive downtown student house to suit all what you need
– Choose us! We look forward to seeing you!
– Call us now or make reservation online!
– We are waiting you!
If you would write to us or if you have any question just click to link:
https://diaklakas.hu/en/contact/
Student room for rent in Budapest, Erasmus accommodation in Budapest, Student accommodation Budapest, Accommodation for students in Budapest, Student housing,
Student apartman in Budapest
Check our best room with balcony in here:
https://diaklakas.hu/en/portfolio/budapest-luxury-studio-4/
Check us on Facebook:
https://www.facebook.com/studentroomforrentBudapest
Erasmus Accommodation in Budapest, Student apartman Budapest, Accommodation for students in Budapest, Student accommodation for rent in Budapest
If you want more information or a call back by phone, please enter your name and phone number!
If you want more information about room or reservation, please fill the next short form and our team will reply soon.